Hello, hello! It is our last Foodie for a Year link up today. The final category is 'a holiday goodie'. My favorite kind of category. My plans went a little askew when Lincoln was born a few days before Thanksgiving along with the addition of a spinal headache to recover from. So, instead of sharing the recipes I planned on testing over the Thanksgiving holiday I will be sharing a few of the recipes I make over and over again around Christmas.
These are the cookies we make for Santa each year. And, just for fun when the mood strikes as well. My favorite bit is that they don't require chilling. Tasty and easy.
I'm not a fan of the flat gingerbread men type cookies, but these soft gingerbread cookies with white chocolate in the center are delicious.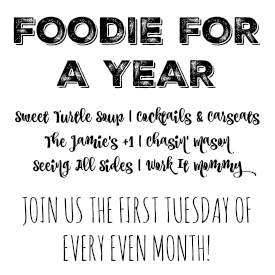 So, now it is your turn! Please share your favorite holiday treats with us below. Fingers crossed I'll find the time and use of both hands to make one or two yummy recipes this month. At the very least Aria and I will whip up some Santa cookies! You can also share with us using the
#foodieforayear
on instagram and twitter.