Now that Halloween is behind us we all know that everyone has Christmas on the brain whether they want to or not. As a kid I always thought it was silly when holiday things would start popping up long before the holiday itself, but now I appreciate the ability to get a jump on things. What better way to get a start on holiday fun than with my favorite book exchange? And you are invited!
Nothing sounds better than curling up with the kiddos (or a newborn...squee!!) and reading books on cold days. Plus it's a great way to meet new mamas and spread a bit of holiday cheer!
If you want to participate please make sure you send an email to
secretsanta.mommyandme@gmail.com
by
Friday, November 11th
. Look for your partner's information on or around Monday, November 14th. Then mail your gift no later then Sunday,
November 27th
and come back to link-up on Friday,
December 9th on any of our blogs
! If you do not have a blog but want to participate that's perfectly fine, you can use #SecretSantaBookExchange on Instgram & Twitter!
Please note that this exchange is open to US residents only. Sadly international shipping gets expensive.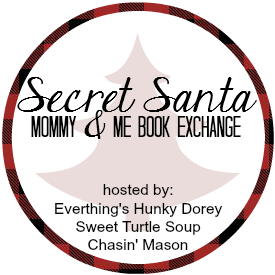 We hope you will join us in this Secret Santa fun!