Welcome back to another month of the Foodie for a Year link up! Today's food category is 'a quick and easy weeknight meal'. This one had me stumped for weeks. I am not known for my quick and speedy kitchen skills, just ask Chris. My version of a quick meal takes me about an hour. I figured nobody else would agree with that. In the end I finally remembered a quick pasta dish that I like. I don't make it very often though because nobody else will eat it. Aria hates red sauce and Chris doesn't like pasta. I will save a bowl of plain noodles for Aria though and with a little butter and parmesan she's happy. Chris gets the short end of the stick and survives off of leftovers. But, if a pasta craving strikes I know I can whip this one up pretty fast. If your family will actually eat pasta though, this one is much tastier than I thought possible for such a short period of cooking.
Recipe from Tasty Kitchen.
Quick Bowtie Lasagna
Ingredients:
1 pound ground beef
5 cups bowtie noodles
3 cups red sauce
1 tablespoon olive oil
1 teaspoon salt
1/2 teaspoon garlic powder
1 teaspoon Italian seasoning
1/2 cup mozzarella cheese
1/2 cup sour cream
Directions:
Brown the ground beef in a pan. Set aside.
Boil water for noodles. Cook according to package. Drain and drizzle with olive oil. Return to pot. Mix in red sauce. Add in cooked ground beef, salt, garlic powder, Italian seasoning, mozzarella cheese, and sour cream. Fold together. Cover pot over low heat for about 5 minutes until the cheese is melted.
Serve immediately.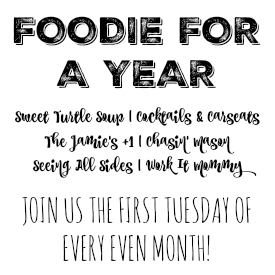 So, please share all your quick recipe gold with me! I need all the help I can get in that department. Link it up with us below! For more details check back on
this post
. Remember the next Foodie for a Year link up is on Tuesday, October 4th - the theme is a slow cooker recipe! You can also share with us using the
#foodieforayear
on instagram and twitter!