Merry Christmas in July, guys!
Elizabeth
,
Jamie
, and I got together to host this year's Christmas in July gift exchange. And, today is the big reveal day.
This year I was matched with Ashley from
Perks of Ponder
and her little guy Jack, who is right around Aria's age so that is always fun.
Here is what they sent.
Aria has her shoes on because she was out the door with dad to play with the train at Barnes and Noble, but when she saw a box and realized it was for her there was no convincing her to wait until she got back home to open it. She plopped herself right down in the living room and ripped her way through everything.
Her favorite was probably the pineapple cup. She badgered me to wash it daily until my lazy self got around to it. She's been having her water in it since then. Although, she lost the green fluff on top almost immediately. The
color foam
was a big hit too. I'd never seen it before but for such a simple thing it totally entertained her for two days until she used it up. This arrived a few days before our BBQ Gender Reveal Party so we used the summery plates and napkins right away. How convenient.
Thanks, Ashley for sending all sorts of fun summery goodies for us!
Ashley and Jack also happened to be whom Aria and I sent our package off to, so head over to
her blog
to check what we sent out.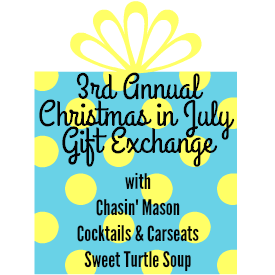 If you participated in the exchange this year please link up your Christmas in July boxes below! Feel free to use #xmasinjulygiftexchange to share on instagram as well.