"I Love my Rain Socks"
Welcome back to another month of the Picture Perfect Project. I am joining up with Beth of
Our Pretty Little Girls
, Whitney of
Work it Mommy
, Stephanie of
Wife Mommy Me
, Elizabeth of
Chasin' Mason
, and Desiree of
Macke Monologues
to encourage you to challenge yourself in 2016 to take pictures daily, monthly, weekly, or any combination under the sun. And, then link-up with us on the
2nd Thursday of each month
to share your progress. Challenges are always more fun when you do them with friends.
My challenge is "12 in 2016" - taking a photo of Aria once a month all year. Not just any picture (because I can usually be found behind my camera) but a picture where Aria is both looking in my direction and with a genuine smile. Some months are more successful than others but the only picture you regret is the one you don't take.
Are you sensing a little deja vu from
May's PPP
? At first I was waiting for the sunshine to come out for a minute so we could go on a dry little photo shoot. When that didn't happen we embraced the dreary rainy days and had a wet photo shoot instead. I like to take Aria's picture decently close to the link up date for this project, and this is what the past few days have looked like. Real life. Halloween pajamas, yellow socks that look like rain boots but in fact do not keep your feet dry (who knew?), and a rain coat.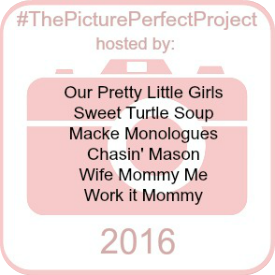 Please link-up any photography challenge you've been working on this year below! The link-up will be open until the end of the month, so add your link anytime between now and then. You can also share your pictures on
instagram
or
twitter
using #thepictureperfectproject. And, don't forget the next link up is on
July 14th
.