Hey, everybody! Welcome to the
Teaching Together Blog Hop
. I, together with
Whitney at Work it Mommy
,
Amanda at Tickled Pink
,
Courtney at A+ Life
, and
Beth at Our Pretty Little Girls
, thought that a link up focusing on preschool activities, homeschooling ideas, and play at home learning would be a great way to pool together all sorts of fun and educational resources. A place to share and be inspired. Check back on the
original post
for full details, and/or
past blog hops
for great ideas!
Mother's Day is this Sunday, so I thought I'd share the canvas Aria made for the occasion! If you've seen my
A through M
, and
N through Z
Hand & Foot Print Animal ABCs, then you know I absolutely adore anything hand and foot print art related. Aria and I have been slowly working our way through all the holidays and special event type days, making canvases for the occasion. Our most recent addition is this Mother's Day hand print flower bouquet!
The best part is how simple it is to make!
All you need:
- a canvas, nothing too large (I think ours are 10x10)
- finger paint (we use crayola)
- a large paint brush to paint tiny hands
- a little paint brush for the stems
Start by painting tiny hands with flowery paint colors and stamping the canvas towards the top. You can do a few or a bunch, Aria wanted to do a bunch. You can wipe the tiny hands clean between each color or just add the new paint color on top of the residue. We just added paint without cleaning in between stamps, and I think it added pretty pops of multiple colors to the hand flowers. Either way works!
Let the hand flowers dry. Then paint a few green stems. Let those dry, and then add a bow. I'm not an artist by any stretch of the imagination so I like to keep it as simple as possible. You could also paint them coming out of a flower pot, and/or add a Happy Mother's Day somewhere. Or, instead of a bunch you could paint a row of flower hands and make a garden. If you have more than one kid you could do the garden idea with a hand from each and add their names by their flowers. You can't go wrong with hand flowers for mom!
Here is a peek at all the other holiday canvases we've made over the years as well, most of them are hand and foot print art. The very first one we did was ghost feet for Aria's first Halloween! The leaves are potato leaf prints for the first day of fall, and the butterfly is for the first day of spring. The 4th of July fireworks are from a few straws taped together to make a firework stamp. We've still got a few holidays to go!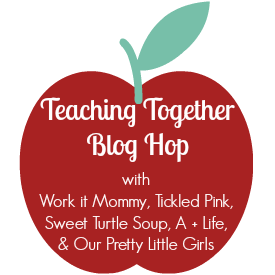 Please link up and share your teaching together posts below or on instagram/twitter using #teachingtogetherbloghop. By linking up with us, you are giving us permission to feature your post. If your post is featured, we will include a picture and a link to your site to share the love. And, mark your calendars for the next Teaching Together Blog Hop on
June 2nd
!