Hey, everybody! Welcome to the
Teaching Together Blog Hop
. I, together with
Whitney at Work it Mommy
,
Amanda at Tickled Pink
,
Courtney at A+ Life
, and
Beth at Our Pretty Little Girls
, thought that a link up focusing on preschool activities, homeschooling ideas, and play at home learning would be a great way to pool together all sorts of fun and educational resources. A place to share and be inspired. Check back on the
original post
for full details, and/or
past blog hops
for great ideas!
With Earth Day on April 22nd, I thought I'd share a few simple ways to celebrate with young kids. I'm always talking to Aria about being less wasteful. That seems to be the big one for her age range - turning the water on full blast to brush teeth and wash hands, flushing the toilet twice, turning on all the lights in the house for fun, using half a roll of toilet paper to wipe, etc. Having a constant dialogue about being good inhabitants of our Earth and respecting everything else that we share it with is a year round job. And one more people should have with themselves more often - we just had a giant fish kill numbering in the thousands locally because of what people are putting into the water. Dead fish washed up on shore for miles. Not pleasant.
Earth Day is a great reminder to take a look at things your family does as a whole, and see where you can make improvements. Maybe even make a goal or two to work on for the next year - using less grocery bags, recycling more efficiently, etc. But, Earth Day doesn't have to be all dead fish and long chats it is a great day to be a little extra festive. Kids retain things better when it's enjoyable and fun, yes? So here are some things Aria and I have done in the past for Earth Day and just for fun, or celebrated a bit early for this year's Earth Day that I think would be great to do on the 22nd or all month long!
Make a Stained Glass Earth Craft:
One of my absolute favorite, super easy, AND totally customizable crafts - stained glass art. This is the first time we tried it using contact paper. Previously we've used wax paper and glue, but contact paper is even easier and less messy. I'm a convert.
What you'll need: contact paper, blue and green tissue paper, construction paper or any paper, and scissors. A marker too if you want to write the name and date on it, but not necessary.
How to: Cut a square of contact paper. Cut a hollow circular frame with the paper - I traced a bowl and a slightly smaller bowl then cut the whole thing out followed by the inside. Place your frame on the sticky side of the contact paper. Pull apart the tissue papers into little squares, you do not need a lot. Maybe an eighth of one sheet of tissue paper for each color. So that will get you set up. Just let your kid go to town sticking the tissue paper onto the contact paper, loosely attempting to keep it all inside the frame. When it is full of paper cut another similarly sized piece of contact paper and place the sticky side on top of the sticky/papered piece. Flip the whole thing over and there is your earth. Just trim the contact paper from around the circular frame and then hang in a window.
All holidays are better with a stack of books. These are the ones we found at our library:
I Can Save The Earth
,
A Tree Is Nice
,
Fancy Nancy: Every Day Is Earth Day
,
The Giving Tree
,
The Lorax
,
The Curious Garden
.
We did this for our Spring bucket list last year, but it would be perfect as an Earth Day project. We still have enough bird seed leftover to make 700 more of these babies. Click
here
for the instructions.
Collect Sticks & Paint Them:
I saw this idea last year when I was looking up things to do on Earth Day. We didn't do it then, but I kept it on the back burner because I thought Aria would enjoy it. She loves sticks and painting, it's a natural choice. We went on a stick hunt in the yard, then came back to the porch and Aria picked the biggest one to paint. She had a few others but she just wanted to paint the one. We actually did this yesterday, so I'm still waiting to see what she decides to do with it today.
This one was on our summer bucket list, and
a total hit
by the way. Gummie worms might be Aria's favorite treat ever. A perfect fun snack to sweeten Earth Day. It would go great with ants on a log - celery with peanut butter and raisins dotted along the pb like ants. Even better would be taking both on a picnic lunch or dinner along with garden veggies, fruit, and sandwiches.
Go on a Nature Scavenger Hunt:
Going on a nature hunt is a good way to spend Earth Day. Walk around your yard with a little container and have your kids put any little treasures inside. You can even turn it into a collage - we did something similar for our
leaf themed Teaching Together Blog Hop
. Or, you can use
this amazing printable
from Sara at Running from the Law to find specific things on your nature walk.
Make Earth Day Cookies:
Another easy Earth Day treat to make are these Earth cookies. You take either homemade or store bought sugar cookie dough, split it in half, and color one half blue and the other half green. Pinch a bit from each color and roll into a ball, then bake according to your recipe or the packaging. When they come out you have these adorable Earth cookies.
Plant Something:
Planting something is a natural way to spend Earth Day. I think kids get a lot out of the whole experience. Now if only I had a green or even semi green thumb. We planted flowers in our front yard
last spring
, and it's gone completely wild again. I'm terrible. But, really weeding is probably my least favorite thing ever. Maybe a tiny herb garden instead!
Make Mud Pies:
Encouraging your kid to get dirty. Yeah, that is always going to get you some brownie points.
If you don't have a garden of your very own to pick something from, go elsewhere. It's strawberry season in Florida currently.
Make a Butterfly Feeder:
I don't know about the rest of the country but it is the start of butterfly season here. We got tons of these beauties in the yard last year, so I thought it would be a fun project to make a butterfly feeder. We missed our window though and made it too late for the butterflies to enjoy. But, it is still hanging up. We just need to make more sugar water. Hopefully some butterflies can enjoy it this year. Click
here
for all the details on how to make your own!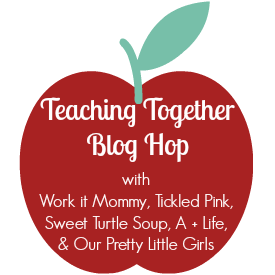 Please link up and share your teaching together posts below or on instagram/twitter using #teachingtogetherbloghop. By linking up with us, you are giving us permission to feature your post. If your post is featured, we will include a picture and a link to your site to share the love. And, mark your calendars for the next Teaching Together Blog Hop on
May 5th
!