Breakfast is my favorite type of food - so many options! Pancakes and omelettes and muffins oh my. All sorts of tasty things to eat, make, try. Bonus, it rarely involves the touching of raw chicken. One of my least favorite things ever. I tried several recipes for this Foodie for a Year's brunch category before deciding on sharing this pastry recipe. It's easy enough to make but also something you might not have very often. Simple and fun, a winning combination. Aria ate four of them, so it's safe to say she was a fan.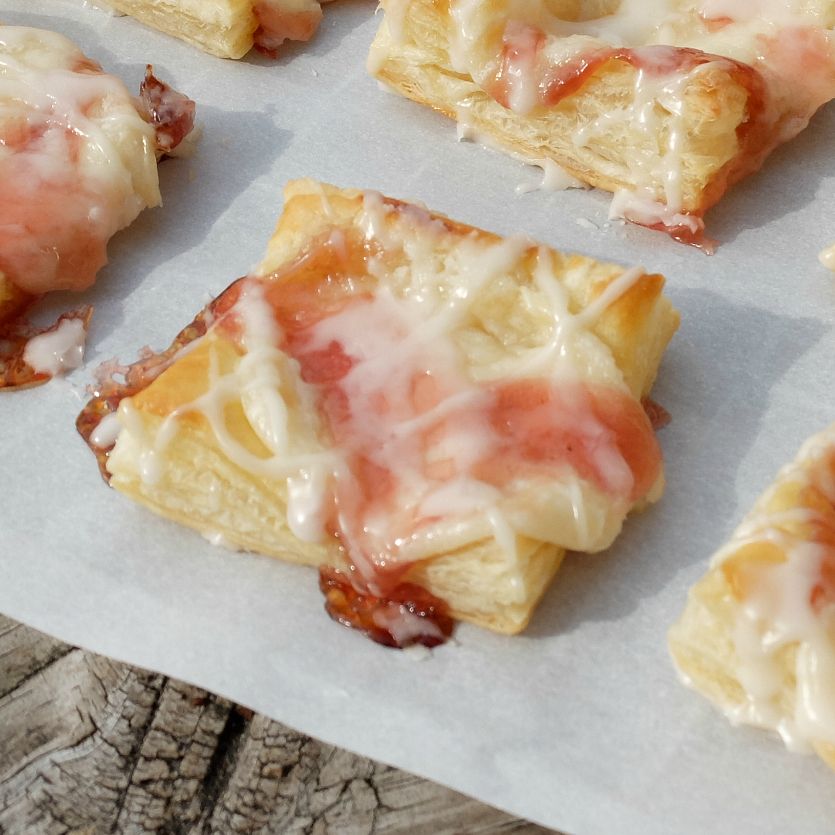 Strawberry Cream Cheese Pastries
Easy strawberry cream cheese pastries made with frozen puff pastry.
Ingredients
1

Frozen Puff Pastry Sheet

4 oz

cream cheese

1/4 cup

granulated sugar

1/2 teaspoon

vanilla extract

1 tablespoon

heavy cream

6 teaspoons

strawberry fruit spread

1

egg

1 tablespoon

water

3/4 cup

powdered sugar

1 tablespoon

water

1/8 teaspoon

vanilla extract
Instructions
1. Let your frozen puff pastry sheet thaw for about 15 minutes, until you can unwrap it easily.
2. Preheat oven to 400. Place parchment paper on a cookie sheet.
3. Cream together the cream cheese, sugar, vanilla extract, and heavy cream.
4. Cut puff pastry into 12 rectangles. Place each on the prepared cookie sheet.
5. Score the edges of each rectangle without cutting all the way through.
6. Place a teaspoon of cream cheese mixture in the center of each rectangle.
7. Top the cream cheese with half a teaspoon of strawberry fruit spread and then swirl a bit.
8. Make an egg wash with the egg and 1 tablespoon of water. Brush the edge of each rectangle.
9. Bake for 13 minutes or until golden brown.
10. Let cool.
11. Stir the powdered sugar, 1 tablespoon of water, and 1/8 tsp vanilla extract together to make a glaze.
12. Transfer to a plastic baggie and snip the corner off.
13. Drizzle the glaze over the cooled pastries.
Details
Prep time:
Cook time:
Total time:
Yield:

16 squares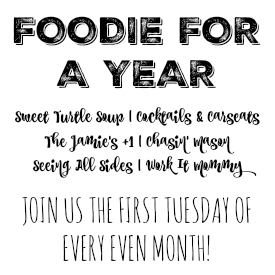 So, what is your favorite brunch recipe? Have you tried something new for brunch lately? Share it with us below! For more details check back on
this post
. Remember the next Foodie for a Year link up is on Tuesday, June 7th - the theme is a favorite summer recipe! You can also share with us using the
#foodieforayear
on instagram and twitter!