Hey, everybody! Welcome to the
Teaching Together Blog Hop
. I, together with
Whitney at Work it Mommy
,
Amanda at Tickled Pink
,
Courtney at A+ Life
, and
Beth at Our Pretty Little Girls
, thought that a link up focusing on preschool activities, homeschooling ideas, and play at home learning would be a great way to pool together all sorts of fun and educational resources. A place to share and be inspired. Check back on the
original post
for full details, and/or
past blog hops
for great ideas!
Today I am sharing the last half of Aria's alphabet hand print and foot print animals - from N to Z!
Big N little n, what begins with n...
Nautilus!
*this one looked a lot better in my mind, ha
Big O little o, what begins with o...
Owl!


Big P little p, what begins with p...
Pig!


Big Q little q, what begins with q...
Quetzal!


Big R little r, what begins with r...
Raccoon!


Big S little s, what begins with s...
Sea Turtle!


Big T little t, what begins with t...
Toucan!


Big U little u, what begins with u...
Urchin!
Big V little v, what begins with v...
Vulture!
Big W little w, what begins with w...
Warthog!
Big X little x, what begins with x...
X-ray Fish!
Big Y little y, what begins with y...
Yak!


Big Z little z, what begins with z...
Zebra!
Click
HERE
for Hand & Foot Print Animal ABCs A through M: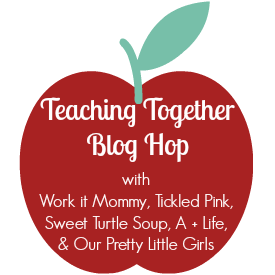 Please link up and share your teaching together posts below or on instagram/twitter using #teachingtogetherbloghop. By linking up with us, you are giving us permission to feature your post. If your post is featured, we will include a picture and a link to your site to share the love. And, mark your calendars for the next Teaching Together Blog Hop on
April 7th
!