What better way to say Happy Valentine's Day than with frosting and heart shapes and pink? We made these using our favorite
soft sugar cookie recipe
topped with a pile of buttercream frosting. It makes a whole heap of cookies, so you will have enough to share with all of your loved ones. Chris's work colleagues can look forward to a big plate full of these goodies today.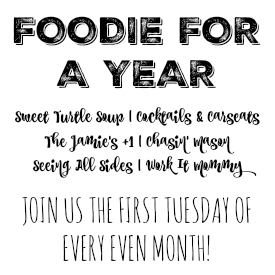 So, what are you making for Valentine's Day this year? Share it with us below! For more details check back on
this post
. Remember the next Foodie for a Year link up is on Tuesday, April 5th - the theme is a brunch recipe! You can also share with us using the
#foodieforayear
on instagram and twitter!