Hey, everybody! Welcome to the
Teaching Together Blog Hop
. I, together with
Whitney at Work it Mommy
,
Amanda at Tickled Pink
,
Courtney at A+ Life
, and
Beth at Our Pretty Little Girls
, thought that a link up focusing on preschool activities, homeschooling ideas, and play at home learning would be a great way to pool together all sorts of fun and educational resources. A place to share and be inspired. Check back on the
original post
for full details, and/or on the
first
,
second
, and
third
blog hops for great ideas!
Today I thought I would share how I get Aria, who is three, involved in the kitchen. It is one of our favorite things to do together, usually because we tend to bake goodies and Aria is an excellent taste tester. But, mostly she just loves to help.
Aria started helping in the kitchen just before she turned two. I'm sure she could of helped before then, but I really hadn't thought of it at the time. My very first tip is take a nice calming breath before you start and remember that there will be a mess. I very much hate spilled flour, so I always have to remind myself that messes are okay. But, after you give yourself a little pep talk there are a lot of things a toddler can do in the kitchen.
#1. Basic Hygiene
- We always wash our hands before we do anything in the kitchen. Just like we always wash our hands before we eat anything. Aria knows that she can't help make cupcakes until she's scrubbed her hands clean. We also cough and sneeze away from food (and people). This lesson took a little longer to catch on, but she's finally not sneezing in the flour.
#2. Identifying Ingredients
- I always told her what ingredients we were using while we baked. One day she started telling me. Now I ask her to help me find them in the pantry and see if she can pick out the right ingredient when I ask for it. She's pretty good with flour, brown sugar, sugar, cinnamon, baking powder, and salt. And, she knows that mom will flip her lid if she licks raw eggs ever again.
#3. Measuring & Dumping
- Does anybody else's heart stop when their toddler scoops half a cup of sugar out of the container? I really only relaxed enough to let Aria do this recently. It's definitely not the cleanest way to help, but everything is a learning process. We talk about the different sizes of the measuring cups or measuring spoons, and we count how many we need.
#4. Stirring
- One of the most basic ways a toddler can help. Almost everything needs to be stirred.
#5. Pushing Buttons
- Another favorite of the toddler crowd. Pushing the buttons on the blender, or sliding the stand mixer's knob over. Aria also loves helping me open cans, and turning the handle on the sifter.
#6. Portioning Out Dough & Batter
- I think letting Aria scoop out muffin batter into the muffin tins is my least favorite thing to do, but my gosh does she love it. I haven't let her try her hand at scooping out chocolate chip cookie dough, but she helps roll them into balls and place them on the cookie sheet. I just have to remind her that they each need a little space to grow.
#7. Chopping
- Aria has just recently started to help with chopping. The kind of chopping that involves a butter knife. Bananas are an excellent start. But, she's helped chop leftover roasted veggies as well. She also has a knife that came with her toddler silverware set that is even less sharp than a butter knife, and she goes to town on her plate of food.
#8. Serving
- One of my goals this year is to have Aria help even more with the cooking side of the kitchen. Mostly we've baked together, but I think she is ready for a bit more cooking responsibility as well. So, over Christmas she helped me make loaded scrambled eggs and then I let her serve it to everybody. She thought it was the best thing since buttered toast. She was very attentive and she offered more eggs right away whenever mom or dad finished a plate. She also wouldn't give more than a few spoonfuls, so plenty of chances for her to refill the plates.
#9. Kitchen Safety
- From the time Aria was little we told her over and over and over that the oven is hot. Hot, hot, hot, ouch, don't touch. We all do that I'm sure. It was one of the first words she knew. So anytime she helps out with cooking that involves heat she knows she needs to be careful. Mostly she will stir a pot of something...soup, or oatmeal. She also knows she can't touch the stand mixer when the paddle is moving. Or, turn it on when the top is lifted up for that matter. Safety first!
#10. Cleaning
- I'm the worst at this one. By the time whatever we are making is baking or cooking, I'm ready to shoo Aria out of the kitchen so I can wipe everything down. But, having them help bring supplies back to the pantry, load the dishwasher, or throw waste in the trash is a great foundation for when they actually need to do those things. Wouldn't it be great if your teenager cleaned up after themselves? It isn't the easiest when toddlers are so short, but they love to help so letting them do so when possible is a great habit.
Here are a few of our favorite recipes to make together:
oatmeal
scrambled eggs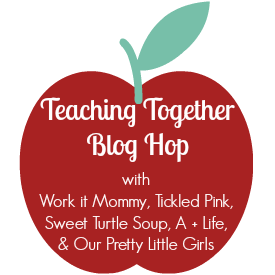 Please link up and share your teaching together posts below or on instagram/twitter using #teachingtogetherbloghop. And, mark your calendars for the next Teaching Together Blog Hop on
February 4th
!