It always feel like the Christmas season has officially arrived when we go visit Santa! The whole thing just puts me in the Christmas spirit. And, this year Aria guaranteed me that she was not going to cry when she sat on Santa's lap. I had pretty high hopes after all the practice she has gotten in this past year from our visits to see characters at Disney, but there was still that glimmer of fear in the back of my mind. But, check out that picture below! She nailed it.
The only bummer was that our timing was less than stellar. You may recall (probably not) that our first visit to Santa (
two years ago
) resulted in a three hour line wait, and even though that picture will always be my favorite I really didn't want to repeat a three hour wait. And,
last year's Santa visit
was perfectly short but the picture was full blown meltdown.
So, how did we do this year? Another three hour wait. Ha. They actually changed the line into a ticketed wait. You go and get a ticket to come back at a certain time. We got there and the wait was already at an hour and a half, four minutes after it opened by the way. Then when we were allowed to get in line it was another hour or so wait. Thankfully when it was finally our turn Aria was so very excited. She ran right up to Santa and gave him a big hug and then totally nailed the smile.
I'm not sure if the ticketed wait was better than just standing in a line. Wandering around the mall for an hour and a half with way too many things a kid can't touch isn't my ideal way to pass the time. Aria managed to break some fancy powerwheels type car at Neiman Marcus and would not stop climbing onto tables. I brought a whole bag full of books that we could have used to pass the time while waiting in line, but she had no interest in them when she was free to run around and cause chaos. It was an exhausting wait to visit Santa to say the least.
I've got my fingers crossed that next year we can get both the short line and the sweet photo.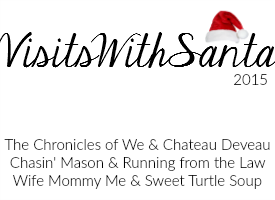 If you didn't catch the link-up announcement the other week...
Jenny
,
Elizabeth
,
Sara
,
Stephanie
,
Laureen
, and I decided to get together to host a link-up where we can all share the photos we get this year of our kids visiting with Santa. I just love seeing them pop up all Christmas long. A place to gather them all together is practically perfect in every way.
The link up opens
today
and will run through the end of the year. That way no matter when you visit Santa you will have a chance to share, and if you've already visited and posted about it go ahead and link that up as well. You can also use #visitswithsanta15 on
Instagram
and
Twitter
!
I can't wait to see your Santa photos! Please link-up below.