Happy Friday! This month has gone by so quickly I keep forgetting that Thanksgiving is less than a week away. Today is Chris' Thanksgiving potluck at work though, so that was a friendly reminder that feasting is almost upon us. I opted for the random/non-traditional route and I'm sending in biscuits and gravy along with a chocolate peanut butter pie. Think they would notice if a slice was gone?
So, I haven't done a Five on Friday in approximately forever...literally since 2014. Today seemed like the day to get back on the Five horse.
ONE - Visits with Santa, A Photo Link-Up Announcement
It's that time of year when we go visit our favorite jolly fellow in the red suit and we take home festive memories in the form of one of those little candy canes (don't they all hand those out??) and a photo. Aria's first picture with Santa is one of my all time favorite pictures of her ever.
This one, right here.
Adorable. If I do say so myself.
So,
Jenny
,
Elizabeth
,
Sara
,
Stephanie
,
Laureen
, and I decided to get together to host a link-up where we can all share those photos we get this year of our kids visiting with Santa. I just love seeing these pop up all Christmas long. A place to gather them all together is practically perfect in every way.
The link up opens on
December 10th
and will run through the end of the year. That way no matter when you visit Santa you will have a chance to share, and if you've already visited and posted about it go ahead and link that up as well. You can also use #visitswithsanta15 on
Instagram
and
Twitter
!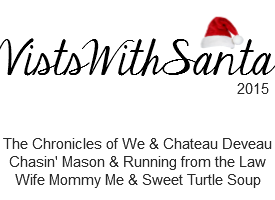 I can't wait to see all your
Visits With Santa
photos!
Two - Link-Up Reminders
If you signed up for the
Secret Santa Mommy & Me Book Exchange
...don't forget to please send your books to your partner by Monday, Nov. 23rd. It's just around the corner.
Don't forget that the next
Teaching Together Blog Hop
will be on Thursday, Dec. 3rd. Loving the great posts you all linked up with the previous two! I'll be sitting this one out but you can add your links on any of the other hosts' blogs.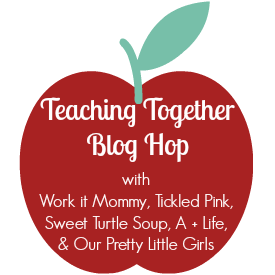 And, if you didn't see yesterday's post Jamie, Elizabeth, Whitney, and I would love for you to share your favorite Christmas dessert recipes on December 3rd. Bonus points for pictures in your tacky sweaters!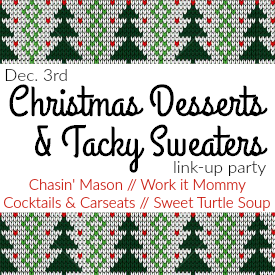 Three - Books to Read with Christmas Spirit
My favorite time to curl up with a book is right now with the Christmas tree up. There is just something about it that makes reading a book more enjoyable. I'm working my way through
The Lunar Chronicles by Marissa Meyer
right now - and loving it by the way. But, I'd love any recommendations you have for books with a bit more Christmas to them. What should I read next?
Four - New Advent Calendar
I've had my eye out for an advent calendar for the past few Christmases. But, they were either much too pricey or not what I was looking for. Then I saw
Ashley
link to
this Target one
and I had to have it. It's similar to
the DIY one
I made last year except much sturdier and much smaller. I'm so excited to plan out our advent now, to go along with our
book advent
...because one advent just isn't enough.
Five - Blog Vacay!
And, lastly I'll be off the blog for the next few days for my annual end of November blog break. I always like to take a few days so that I can really enjoy Thanksgiving and prep for Aria's Birthday and Christmas. I also hope to squeeze in some extra reading time as well. Although that usually doesn't work out as planned with so much going on but perhaps this year it will.
So, I will see you after Thanksgiving...with another link-up announcement because four didn't seem like enough this year!