I am very excited to announce this year's Countdown to Halloween - 31 Days of Fall Fun link up party! I look forward to it all year long. Aria, Chris, and I have so much fun filling our Octobers with as many festive things as I can come up with. Nothing is more fun for me than making holidays magical.
So, like the last two years I will be counting down to Halloween every day in October and recapping the fun each Monday from October 5th to November 2nd. And, I'm inviting you to do the same!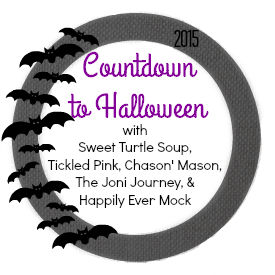 Write a post on anything you've done to make October a little (or a lot) festive for you and/or your family. It doesn't matter if you do something every day or just one day. It can be anything fall or Halloween related - making pumpkin french toast, picking Halloween costumes, decorating, visiting the pumpkin patch, etc. Then grab a button and link up on Oct. 5th, 12th, 19th, 26th and/or Nov. 2nd.
And, the most important part - have fun! You don't need to be a supermom to pull off a countdown, just a little creative (or do a quick perusal of pinterest). Things don't have to be complicated, time-consuming, or pricy to be fun.
Check out all my Countdown to Halloween recaps from the past two years for all sorts of ideas:
2013 >>>
Recap #1
,
Recap #2
,
Recap #3
,
Recap #4
,
Recap #5
, and
Halloween Day
.
2014 >>>
Recap #1
,
Recap #2
,
Recap #3
,
Recap #4
,
Recap #5
.
Back again this year are some holiday loving friends to help me host too - Amanda from
Tickled Pink
, Liz from
Chasin' Mason
, Kelly from
Happily Ever Mock
, and Nina from
The Joni Journey
.
It is almost as enjoyable for me to read what everybody else has been up to in October as it is to do all the festive things myself. So, I hope to see everybody join us this year in counting down to Halloween starting Monday, October 5th! Mark your calendars and start brainstorming ideas, I'm sure you already have a few things on your Halloween to do list to begin with.
Don't forget you can also join in on the fun on
instagram
with #cdtohalloween15!