I hope everybody has a spooky and fun Halloween - we still have our pumpkin carving to do and a helping of biscuits and grave-y is a must too! So I'm thinking it will be an excellent end to a very festive month.
So, my Halloween costume this year is a peacock and I thought it would be fun to chalk my hair a few colours to go with the theme. I got Chris do it for me. Big mistake, huge. First it hurt, but that might just be user error. Second it was messier than messy. Third it made my hair feel like crap. I could not wait to wash it out. You win some, you lose some. Also, you can barely tell.
Have y'all seen the naturebox monthly subscription service around? You can get a free sample box if you pay the shipping, so I figured why not. I could totally eat my wait in those garden tomato crunchies and cashew crumbles, and I don't even like nuts. The coconut cashews almost made me hurl, but that was only because Chris forced me to try one and I frickin hate coconut. Chris thought they were divine. I also hate sea salt, so the sea salt crackers were not up my alley. The cinnamon swirl kettle kernels were meh. The rest packed such a flavor punch that those were nothing in comparison.
You can go to the site and personalize your tastes and choices, so you could customize a pretty bad ass box with time. Overall I liked the service, and at the very least you can't beat the price of shipping for some munchies. I cancelled mine right after the sample box arrived because there are way too many goodies being concocted at home to need any more, but I liked it enough to consider it again in the new year. (Not a sponsored post, just sharing)
Speaking of goodies...I updated my '
recipe book
' page. You can find it to the right in the sidebar. And, just in case you wanted to know - the ham and potato chowder and the baked pumpkin cream cheese french toast were huge hits.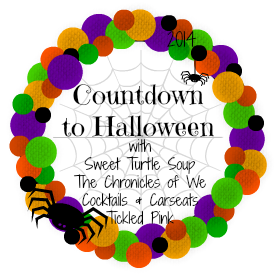 I can hardly believe today is the final day of October. I was just thinking about some of the things we'd done at the start of the
Countdown to Halloween link up party
and they really felt like we'd done them at least twice as long ago. But, now that the month is coming to a close so is the link up - the final link up will be next Tuesday, the 4th of Nov. Feel free to stop by and check out all the spooky fun we've been up to or link up yourself!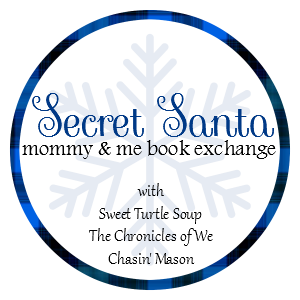 And, last but
not
least since Halloween will soon be behind us we can really start to get in the Thanksgiving and Christmas spirit.
Jenny
,
Elizabeth
, and I came up with a Secret Santa Mommy & Me Book Exchange. You can still join in on the literary good times until next Wednesday, so please check out the
announcement post
for all the fun details!
Linking up with: