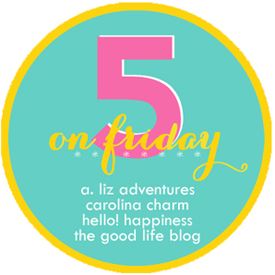 Linking up with the good life blog, Carolina Charm, A. Liz Adventures, and Hello! Happiness today to share a fun gift exchange and link up announcement!
Sign up! No seriously please do! We would love to have you participate in this fun summer gift exchange. The more the merrier!
To sign up please e-mail Jenny (thechroniclesofwe@gmail.com) or Courtney (sweetturtlesoup@gmail.com) by June 20th at midnight EST. Please be sure to include your name, blog address and e-mail address. We will use elfster to randomly assign matches to everyone who participates (hosts included) and will post matches on our blogs on Monday, June 23rd.
The exchange is limited to $20. Get to know your exchange partner and their little. Check out their blog, Instagram, etc! The exchange is meant to be between the littles but it's up to you if you want to include something for mom. Have fun and be creative! We will also have a little get to know each other questionnaire on our blogs after the matches are posted that you can use to get the conversation started.
It's really important that you mail your Christmas in July present by July 11th and get the tracking number. This is to make sure it arrives with enough time for everyone to participate in the link up. The tracking number is to make sure your package arrives at its destination. Once you mail the package be sure to let your partner know and send them the tracking number too.
Grab the button and link up your presents on July 24th!
Be sure to take lots of pictures of your package, your little opening it and some fun candid play shots. And, give a shout out to your partner as well.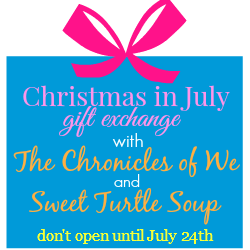 We hope to see you and your babes sign up for this Christmas in July gift exchange. It is always a treat to receive something other than bills in the mail. It'll be a hoot!
Have a jolly weekend!