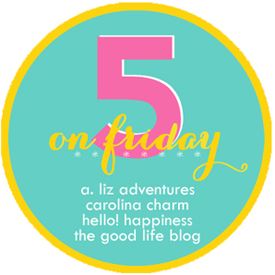 Linking up with the good life blog, Carolina Charm, A. Liz Adventures, and Hello! Happiness today to share the Easter DIY-ing I've been up to and a few bonus ideas for more.
Materials:
-Styrofoam wreath
-Yarn (any will work)
-Spray adhesive
-optional: flower embellishments (I got these stickers from the dollar section at Target)
How to:
Note:
The spray adhesive is a decently sized mist, so I did most of this one outside. I also only did one pass around the wreath with the yarn, I thought it looked sloppy when I started to layer on top.
Materials:
-Yarn, string, twine etc (Whatever you want to hang the bunny butts on. I used yarn.)
- Felt (I used the squares you can find at craft stores in all sorts of colours)
-Bunny template (I used the one
here
)
-Poms
-hot glue
How to:
Note:
Don't forget to glue on the bunny tails prior to hanging your garland, not that I forgot to myself or anything...
Materials:
-Fishing line
-50 plastic eggs with holes on each end
How to:
Note:
I find fishing line super easy to work with when it comes to stringing. I did the double hole method as described in the link above for one garland, and then made a second garland stringing just through one hole. The double hole method was more time consuming, but easier to tie and hang. The single hole method took a fraction of the time, but was a pain in the butt to tie and hang. Can't have everything I guess.
Materials:
-yarn or ribbon
-paper, card stock, foam etc eggs
-stapler
How to:
Simply cut out your desired length in yarn or ribbon. And then staple eggs along its length. It is fast, easy, and cheap. I practically always make a garland for the holidays with this method, and I can always find cute shapes from jo ann's.
Note:
Sorry about the dark picture. I forgot to snap one during the day.
Have a lovely weekend!