The very first link up for
The 5 Days of Christmas
link up party
is today with myself, as well as Jenny from
Growing up Jacobson
, Jenesha from
Books, Looks, & Babies
, and Stephanie from
Wife Mommy Me
.
Today is all about the Christmas goodies - for more details check out
this post
. I love Christmas cookies, so I knew I wanted to share a few of my favourites. I love Christmas cookies so much that they became part of the food spread at Aria's first birthday party (details and pictures soon - hopefully this week)! So, if you need something new to try this year all of these are tried and true winners in my book.
Three ingredients, guys. These are my favourite Christmas cookies. I store them in the freezer, and they are just oh so good. These particular ones are mint oreos and cream cheese, dipped in melted milk chocolate chips. A bonus is that you can change up the chocolate for any occasion - using those candy discs lets you play with practically every colour under the sun. If you want to go white don't use white chocolate chips, they are the biggest pains to melt - so finicky, I'd use white candy discs or almond bark. I prefer simple milk chocolate though!
I don't like crunchy cookies. So, gingerbread really isn't my thing. But, when I saw these I thought they might be a winner. Turns out they are! A soft gingerbread cookie with white chocolate...mmm. Molasses, however, is really unpleasantly strong smelling to work with - sorry about that.
These probably fall under more of an October cookie, but I don't care. They are delicious. They are so soft and chewy with a good pop of pumpkin spice flavour. I actually made these in October too, but seriously was daydreaming about them after they were all gone. So, of course, they needed to make an appearance on the birthday spread!
These are for the chocolate and peanut butter lovers of the world. That doesn't actually include me. I enjoy the chocolate and peanut butter combo, but it doesn't flip my lid or anything. They are a, surprise!, soft cookie and richly decadently chocolate-y peanut butter cup-y. Basically you only need one and a glass of milk afterwards. The first time I made these I think Chris ate the whole batch in one go. So, I made sure to send them all out of the house with everybody at the end of the party.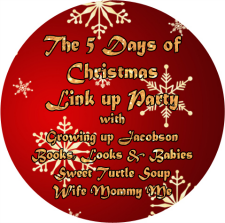 Now it is your turn! What are your favourite Christmas cookies? Or, Christmas recipes? Or, best tips for hosting Christmas dinner? etcetcetc. We'd love to hear all about what is filling your bellies this holiday season! So, eat all the things, write a post, grab the button above, link up on any of our 4 blogs, and most importantly have a jolly good time!