I wanted to make sure to include the big day in my Countdown to Halloween. After all you can't have a countdown to Halloween without Halloween.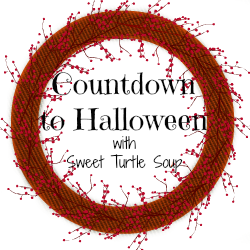 Day 31:
I wrangled Aria into her pumpkin pjs one last time. It was definitely a wrangle too, let me tell you. It was worth it for one last pumpkin butt shot this year though.
Aria's great granny sent her a Halloween card! She carted it around with her for a while until she ripped it in half so I set it up so Chris could at least see it when he got home from work. She is in her Minnie Mouse outfit because I tossed all her Halloween clothes in the dryer...and never turned it on. I figured it was just enough like a costume to count.
I outlined our Cheshire cat pumpkin and Chris carved it. See a little below for a finished product picture. Hint: it turned out wicked sweet.
I corralled these two for a family shot on the porch before we set off to trick or treat.
We drove over to Aria's grandma, who doesn't live too far away, for our first trick or treat spot and then walked a tiny part of our neighborhood. I think we hit a total of 5 houses - a couple that had people sitting outside handing out candy, and then we made sure to stop by our cousins and aunt and uncles places. It took us 40 minutes+ just to make it to those 5 houses, and my little cat purse was stuffed. My little ready-for-bed and sweaty dragon got a ride on dad's shoulders on the walk back home.
The front porch all decked out in the dark. I think it turned out rather well this year, and as you can see our pumpkin is badass. I 'weaved' the spider web from yarn, the hanging spiders are from Target, the ghost is from Big Lots, and the jug-o-lanterns I made last year from old milk jugs.
Happy Halloween one last time! I hope everybody had a safe and spooky Halloween.
Now it is time to put away the creepy and bring out the cheery! Happy November, lovelies!