I've been busy, busy lately. If I'm not hanging out with Aria, which is most of the time, I am decorating or DIY-ing decorations to decorate with or meal planning or blogging or blog reading etcetc. Having a kid, an obsession with holidays, a blog, and a life is time consuming...man, who else needs a nap?
Yesterday Aria's godfather came along with us on errands, and got to tote around a baby. It was good practice for when he has a baby and a work out all in one. Aria has pretty awesome-sauce godparents, though. Who else would want to tag along to the library, Target, and Home Depot just to get in some hang time with the little one?
October is tomorrow, which means the start to my 31 Days of Fall Fun. Don't forget to
link up on Thursdays
! I picked up a slew of Halloween/Fall children's books from the library, I've got a couple hearty recipes lined up, plans for a pumpkin-y treat, and a craft in the works. Can't wait to see what fun things everybody else thinks up!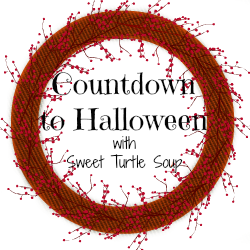 And, since it is Monday it is time for the Mommy & Me link up with
Dear Owen
and
Everyday Love
. This week I got Chris to take a few pictures of Aria and me inspecting the fallen leaves in the backyard.